SOURCE BBC.
Liverpool boss Jurgen Klopp says his side "came through the whirlwind" as they beat Manchester City at the Etihad to seal their place in the last four of the Champions League.
Leading 3-0 from the first leg, the Reds fell behind at the start of a first half dominated by the home side.
But the visitors battled back to win 2-1 and claim a 5-1 aggregate win.
"We scored five against Man City and only conceded one. These numbers are usually not possible," said the German.
"The boys found a solution in the second half. We had two or three opportunities in the first half already, so it was easy for me and the boys to see the development of the game. We had come through the whirlwind."
Gabriel Jesus' early goal hinted at a Manchester City fightback, but it never materialised as they struggled to find that clinical edge in the final third.
Instead, Mohamed Salah's 39th goal in a sensational season put Liverpool in control before Roberto Firmino's composed finish secured Liverpool's first Champions League semi-final appearance in a decade.
'Man City v Barcelona a normal final… now they are out'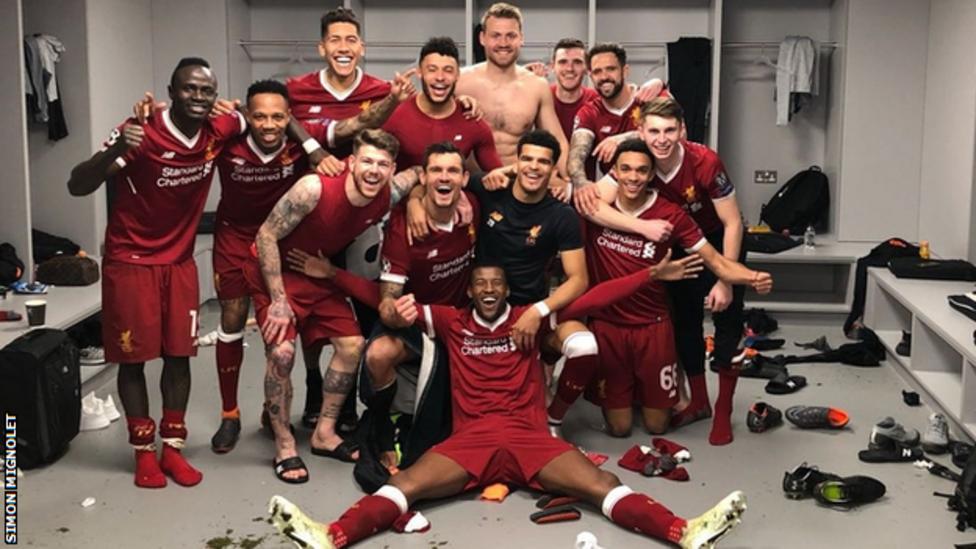 Liverpool last reached the final in the 2007-08 season and their hopes of going all the way in this year's competition have perhaps been raised by the shock elimination of Barcelona.
The Spanish giants lost 3-0 in Italy on Tuesday night, with Salah's former side Roma progressing on away goals following a 4-4 aggregate draw.
Klopp said of Barcelona's exit: "I walked up the stairs and somebody told me. I thought it was a joke.
"Not to disrespect Roma. They lost Salah and are in the semis. That's something else.
"This competition is quite fair and I really think a normal final would have been Manchester City against Barcelona, and now they are both out.
"But there will still be two other really strong teams in there plus Roma and us. We will see what happens but that's not the thing I have to think about right now."
'We have to recover mentally'
City boss Pep Guardiola urged his players to "recover mentally" from their worst week of the season after a third straight defeat.
As well as losing both legs to Liverpool, City missed the chance to wrap up the Premier League title when they lost to Manchester United last Saturday.
City have a 13-point lead at the top of the Premier League table and it is only a matter of time before they are crowned champions of England.
Guardiola is demanding one last push from his players, who face Tottenham at Wembley on Saturday evening.
"Now we have go to Tottenham and we have to recover mentally," said the Spaniard.
"The first half we did absolutely everything.
"Three at the back, created chances, controlled the counter attack perfectly. The second half was quite different.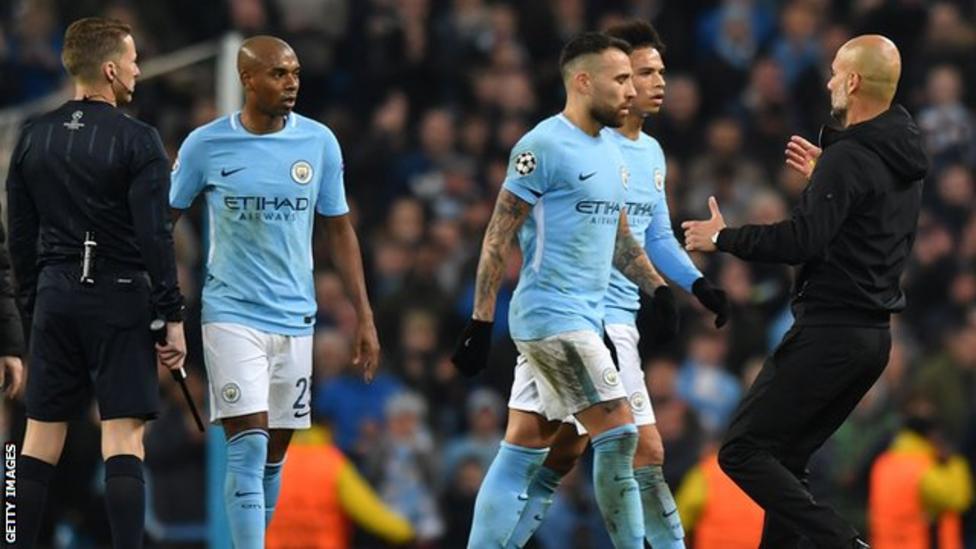 Guardiola said City were on the wrong end of some poor refereeing decisions against Liverpool.
Leroy Sane had a goal, which would have made it 2-0 to City on the night, controversially disallowed while Guardiola felt his side should have had a penalty for Andrew Robertson's challenge on Raheem Sterling.
Guardiola was sent to the stand after complaining to Spanish referee Antonio Mateu Lahoz at the end of the end of the first half.
"I said he was wrong," added Guardiola when asked about his dismissal. "I didn't insult him. I just said it was a penalty and it was a goal.
"The ball for Sane came from James Milner. He said, 'From Milner it came?'. 'Yes, from Milner'.
"When it comes from Milner it is not offside, and we go to half-time 2-0. Two-nil against that team is a little bit different.
"In these kind of games, in these competitions, the impact is so big."
'We have to be better in the next round'
Despite a handsome aggregate win, Milner said Liverpool have to be better whoever they are drawn against in the semi-finals.
"Everyone knows how good Manchester City are so to beat them is a good confidence builder," said the former City player.
"But we have to be better in the next round.
"We got about them a bit more in the second half, kept the ball slightly better and were more composed. That's the key, it's what you have to do against these sorts of teams."
City's Brazilian forward Jesus said: "It's difficult to take.
"We played badly over the two games and Liverpool got the result so congratulations to them."